Page Menu
Event Details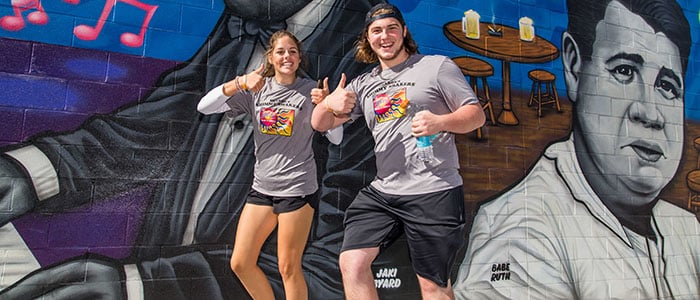 Each year, you and thousands of people like you, make the UMass Cancer Walk a success. The money you raise supports adult and pediatric cancer research and care, and clinical trials of new potentially lifesaving therapies taking place right here in Central Massachusetts at UMass Chan Medical School.
2023 UMass Cancer Walk
Date
Sept. 24, 2023
Location
Polar Park, 100 Madison St, Worcester, MA 01608
Celebrating Superheroes
Once again this year, we will be honoring patients, family members, healthcare providers, researchers and volunteers — and you — with our superhero theme. By raising money and taking part in the walk, you have the "power" to save the lives of cancer patients. Superheroes may make appearances and participants are encouraged to dress up as superheroes!
Fun for the Whole Family
Walkers of all ages are welcome to take part in the walk. A "Kid's Zone" area of the park will feature coloring and sidewalk chalk.
Why Take Part?
Your commitment to raise funds to support the UMass Cancer Walk is vital to the researchers and physician-scientists at our UMass Cancer Center.
Your efforts enable them to focus on critical research, including clinical trials, that have the potential to change the lives of those with cancer. The funds you raise will help us develop groundbreaking cancer therapies and treatments. Your participation provides hope to those who need it most.
History
Dottie Manning witnessed firsthand the devastating effects of cancer. First, she and her husband Dan Manning Sr. lost their son Danny to the disease in 1994. More devastating loss followed just two years later, when Dan Sr. lost his battle.
It was then that Dottie and family friend Bob Haynes decided it was time to take a stand. Together, they started a large-scale fundraising event to fight cancer, and in 1999 the walk was born.
Since then, the UMass Cancer Walk has become the largest, one-day, single-location fundraising event in our area. The effect has been tremendous. Supporters like you have raised more than $16 million.