Page Menu
Event Details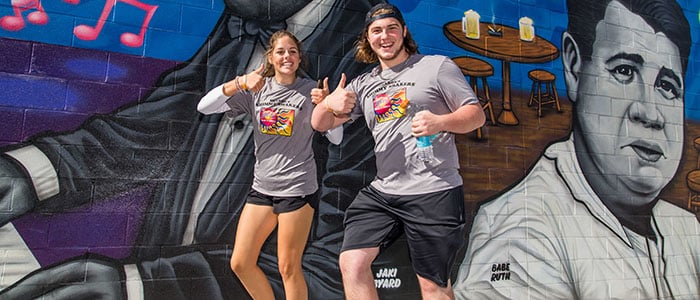 Each year, you and thousands of people like you, make the UMass Cancer Walk and Run a success. The money you raise supports adult and pediatric cancer research and care, and clinical trials of new potentially lifesaving therapies taking place right here in Central Massachusetts at UMass Chan Medical School.
2022 UMass Cancer Walk and Run
Date
Oct. 2, 2022
Location
Polar Park, 100 Madison St, Worcester, MA 01608
Schedule of Events
8 a.m. - Gates open and walkers are welcome
10 a.m. - Speaking program
10:45 a.m. – Walk begins
Route Length
5K (3.1 mile) route for walkers and runners that will begin and end inside Polar Park. Those who prefer a shorter distance can stay inside the park and walk a lap/laps around the warning track (dirt perimeter around the baseball field), which is a ¼ mile.
Fundraising Goal
$850,000
Registration
All participants are required to register in order to attend the in-person event. You can register as an individual or form a team. We encourage our participants to recruit their family, friends, colleagues and neighbors to sign up and be fundraisers. Teams consist of two or more people who are raising money toward the same fundraising goal.
Registration Fee
The registration fee is $15 for individual walkers or runners age 12 and older. Children under the age of 12 must register, but the fee is waived.
Registration Deadline
Registration closes at noon on Friday, Sept. 30. Register online.
Non-registered participants can sign up for $20 (kids under 12 are free) at the registration table outside of Gate D on Oct. 2.
T-Shirt Prize
The FIRST 1,000 individuals to raise $100 on their personal fundraising pages (not team totals) will receive exclusive 2022 tri-blend event shirts.
Celebrating Superheroes
This year we're honoring patients, family members, healthcare providers, researchers and volunteers — and you — with our superhero theme. By raising money and taking part in the walk, you have the "power" to save the lives of cancer patients. Superheroes may make appearances and participants are encouraged to dress up as superheroes!
Fun for the Whole Family
Walkers of all ages are welcome to take part in the walk. A "Kid's Zone" area of the park will feature coloring and sidewalk chalk.
After Event
After the event, participants are welcome to join us back in Polar Park and order food and drinks from Behind the Plate Concessions.
Why Take Part?
Your commitment to raise funds to support the UMass Cancer Walk and Run is vital to the researchers and physician-scientists at our UMass Cancer Center.
Your efforts enable them to focus on critical research, including clinical trials, that have the potential to change the lives of those with cancer. The funds you raise will help us develop groundbreaking cancer therapies and treatments. Your participation provides hope to those who need it most.
History
Dottie Manning witnessed firsthand the devastating effects of cancer. First, she and her husband Dan Manning Sr. lost their son Danny to the disease in 1994. More devastating loss followed just two years later, when Dan Sr. lost his battle.
It was then that Dottie and family friend Bob Haynes decided it was time to take a stand. Together, they started a large-scale fundraising event to fight cancer, and in 1999 the walk was born.
Since then, the UMass Cancer Walk and Run has become the largest, one-day, single-location fundraising event in our area. The effect has been tremendous. Supporters like you have raised more than $15 million.
Polar Park Information
Accessibility
Accessible seating, along with adjacent companion seating, are points of pride at Polar Park. Drop-off points on Madison Street and at the rounded corner of Washington and Ash streets provide some of the best proximity and accessibility in baseball.
Polar Park has seats that pivot to create space for attendees in wheelchairs, while their companions sit in seats next to them. Another feature is at the end of select rows, where an armrest lifts up to create more space for someone to enter the row. And every seating category caters to those with special needs.
Guests with disabilities or who use mobility aids will find special accommodations in Sections 2, 3, 5, 6, 8, 12, 13, 101, and 202.
Additionally, we have Section 16, Row 20, with extraordinary legroom, dedicated to families with autistic individuals if they prefer this option.
If you require special accommodations or assistance, please contact cancerwalk@umassmed.edu prior to the event.
Animals
Service animals, as defined by the Americans with Disabilities Act, are welcome at Polar Park, provided they are accompanied by the handler, trained to provide a service to the handler, and leashed at all times. Ordinary pets are not typically allowed at Polar Park.
ATM
There is no ATM inside Polar Park.
Capacity
Polar Park's official capacity is 9,508 people. We do not anticipate the 2022 event to come close to this capacity limit.
Carry-In Policy
Outside food and beverages may not be brought into Polar Park. Exceptions will be made where necessary for attendees with food allergies or dietary restrictions.
Bags 5"x9" in size or smaller, parental bags, and bags containing medically necessary supplies are permitted in Polar Park.
In addition, the following items are among those not permitted to be brought into Polar Park:
Aerosol cans (e.g., mace, pepper spray, hairspray, etc.)
Air horns
Animals (except Service Animals or pets on special pet promotional days)
Backpacks
Bags that are large (Beach bags, large purses, duffle bags, suitcases, etc.)
Binocular Cases
Bottles made of glass
Cameras with detachable lenses, lenses 6" or longer, and camera cases
Cans
Carts
Coolers
Cycles
Fireworks
Food or Drink (with exceptions noted above in this Carry-In policy)
Glass
GoPros or similar recording devices
Hard containers
Illegal drugs
Laptop computers
Large bags (Beach bags, large purses, duffle bags, suitcases, etc.)
Laser pointers
Megaphones/Noise Amplifiers
Noisemakers/Horns
Poles longer than 6"
Recreational equipment (Skates, Skateboards, etc.)
Seats with metal backs and/or zippered compartments
Selfie Sticks
Signs are not permitted which are: larger than 24" x 24"; impair the view of others; are not in good taste; use profanity, offensive words, or that promote political partisanship
Signs are not permitted to be hung by attendees on banners on structures
Smoke Bombs
Strollers
Tripods
Unauthorized solicitation, handbills, giveaways, or sampling (without permission)
Umbrellas that block others' views
Video or audio recording equipment for unauthorized commercial purposes
Weapons of any kind (in the judgment of Polar Park security personnel)
All bags, clutches, and purses are subject to inspection upon entering the venue.
Concessions
Credit cards are accepted at all fixed concession stands. Cash is accepted at some registers
COVID Policies
The UMass Cancer Walk and Polar Park seek a safe and healthy environment and therefore require attendees and staff to follow COVID-19 protocols. Please maintain cleanliness and conscientiousness as we navigate these times together. Fully vaccinated* attendees and staff are no longer required to wear masks/face coverings while at Polar Park. Attendees and staff who are not fully vaccinated* are strongly encouraged to continue wearing a mask or face covering while at Polar Park.
*An individual is "fully vaccinated" 2 weeks after their second dose in a 2-dose series, such as the Pfizer or Moderna vaccines, or 2 weeks after a single-dose vaccine, such as Johnson & Johnson's Janssen vaccine.
This is a mask-friendly event and all fully vaccinated attendees should also feel free to utilize them according to their discretion and preference.
Directions
Polar Park is located at 100 Madison Street and is accessible from a variety of directions.
From the north: Take Interstate 290 to Exit 14 (Route 122).
From the east: Take the Mass Pike (Interstate 90) to Exit 94 (State Route 146) and stay on 146 North (which becomes Quinsigamond Avenue) until it ends at Southbridge Street. Turn right, and find parking near Madison Street, just a couple blocks west of Polar Park.
From the west: Take the Mass Pike (Interstate 90) to Exit 90 (Interstate 290) and exit at either Exit 13 (which will soon be renumbered Exit 17) and turn left to enter Kelley Square or use Exit 14 (soon to be renumbered Exit 18) and turn left at Grafton Street (122) onto Winter Street. It's easier than it sounds.
From the south: Take State Route 146 North all the way until Quinsigamond Avenue ends at Southbridge Street. Turn right, and find parking near Madison Street, just a couple blocks west of Polar Park.
Drones
Guests are prohibited from using or possessing unmanned aircraft or radio-controlled model aircraft in Polar Park or anywhere on or within the airspace of Polar Park property.
Entering Polar Park
Gates C & D will be open for pre-registered participants. Please have your QR code ready to be scanned at the entrance. (QR Codes will be emailed to participants by Saturday, Oct. 1. You can screenshot your QR code for check-in purposes. Non-registered participants can check in at the registration table outside of Gate D.
Exit/Re-entry
Guests may not exit and re-enter Polar Park using the same ticket. However, in the case of an emergency, please ask an event staff or volunteer for assistance.
Code of Conduct
The UMass Cancer Walk and Polar Park are committed to providing an enjoyable, safe, family-oriented experience during the event. Those who do not observe our Code of Conduct, as determined by the park and event organizers, will be asked to leave, and where applicable, may incur criminal or civil penalties.
Alcohol/Drugs

The organization reserves the right to deny entrance or escort from Polar Park any guest who:

Appears intoxicated or impaired by alcohol, drugs, or other controlled substances.
Is under the age of 21 and possessing alcoholic beverages.
Facilitates underage drinking.
Possesses illegal drugs.

Clothing/Body Art

Attendees may not wear obscene, profane, or indecent clothing.
Attendees must wear a shirt and shoes inside the park.

Emergencies

The organization reserves the right to remove anyone who fails to comply with any request from staff, volunteers or law enforcement personnel regarding event or park operations or emergency response procedures.
First Aid
For immediate treatment, please see a staff member or volunteer, or visit the UMass Memorial First Aid Room located in the Country Bank Fan Services Center. EMT personnel from UMass Memorial are available at all WooSox games at Polar Park.
Firearms
Weapons of any kind, including knives and firearms, are not permitted on Polar Park property. They are, however, allowed in your locked motor vehicle.
Lost and Found
Lost and found items should be taken to (and can be retrieved from) the Country Bank Fan Services Center. If you have lost an item at Polar Park, please send an email to cancerwalk@umassmed.edu and/or info@polarpark.com.
Nursing Rooms
Nursing mothers are welcome at our Nursing Room located at the Country Bank Fan Services Center. The Nursing Room can be locked from the inside and is equipped with an electrical outlet, a lounge chair, a side table, and a television.
Parking
Downtown Worcester has more than 7,300 spaces within a 5-10 minute walk of Polar Park.
Lots and garages owned by the City of Worcester have spaces priced at $5, $10, or $15, depending on proximity to the ballpark.
The Green Island Boulevard Garage, directly across the entrance from Polar Park, will offer parking at a reduced rate of $5 for the day.
Other large parking garages include the McGrath Blvd. lot behind the Worcester Public Library, the Union Station Garage, and the Worcester Common Garage.
For a detailed map of parking areas and more information regarding parking and transportation, please visit woosox.com/parking.
Restrooms
Polar Park has ample restrooms on each level, and it also has family restrooms that are gender-neutral on each level. Diaper changing areas are available in men's, women's, and family restrooms.
Family restrooms: Family restrooms are designed for attendees with small children, attendees with disabilities, and attendees seeking a gender-neutral facility. All family restrooms are accessible and equipped with baby changing tables.
Gender-neutral restrooms: Polar Park has restrooms designed for attendees with small children, attendees with disabilities, and attendees seeking a gender-neutral facility. In addition to those located throughout the ballpark.
Security
Polar Park and the UMass Cancer Walk seek to provide a safe, family-friendly environment. Event staff and volunteers will be present to assist attendees. If security is needed, please notify the nearest staff member or volunteer, or visit the Country Bank Fan Services Center.
Smoking Policy
For the health and comfort of all attendees, smoking is prohibited in Polar Park, including concourses, seating sections, restrooms, suites, and group areas. Attendees who smoke may request a stamp from Security at Gate D and exit the park to smoke and then return.
Snacks
Thanks to generous sponsors, snacks and fruit will be available at Polar Park.
Voted Best Nonprofit Fundraiser Event by Worcester Business Journal
2022