Page Menu
Route Map
Route map for the 2023 UMass Cancer Walk and Run presented by Harr Toyota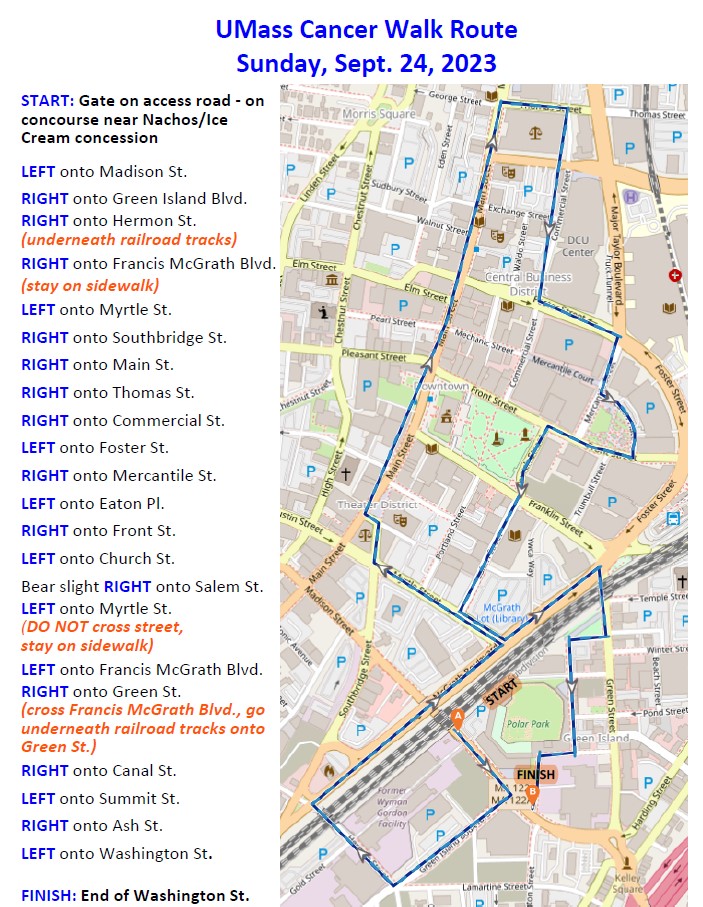 Directions
START: Gate on Access Road - on Concourse near Nachos/Ice Cream Concession
LEFT onto Madison Street
RIGHT onto Green Island Blvd.
RIGHT onto Hermon St. (underneath railroad tracks)
RIGHT onto Francis McGrath blvd.(stay on sidewalk)
LEFT onto Myrtle St.
RIGHT onto Southbridge St.
RIGHT onto Main St.
RIGHT onto Thomas St.
RIGHT onto Commercial St.
LEFT onto Foster St.
RIGHT onto Mercantile St.
LEFT onto Eaton Place
RIGHT onto Front St.
LEFT onto Church St.
Bear RIGHT onto Salem St.
LEFT onto Myrtle St. (DO NOT cross street, stay on sidewalk)
RIGHT onto Green St. (cross Francis McGrath Blvd., go underneath railroad tracks onto Green St.)
RIGHT onto Canal St.
LEFT onto Summit St.
RIGHT onto Ash St.
LEFT onto Washington St.
FINISH: End of Washington St.
You did it! Now join us back in Polar Park for food drink and live music.